In our October webinar, we were joined by Twon Madison of Missouri State University.
He shared with us his Glean story, telling us why and how he and his colleagues decided to shake up note taking and deliver more equitable learning for students. First, a few quick facts about Missouri State...
Tale of the Tape: Missouri State University
✔ 22,000 students
✔ 1,271 currently registered with Disability Resource Center
✔ Around 100 of these students receive note taking accommodations
✔ MSU now access 200 Glean licenses
The challenge
'If you talk to just about anyone in the disability services field, the one thing we agree on is that note taking is one of the most challenging accommodations to provide'
To deal with this challenge, Twon's department would traditionally offer peer notes, digital recorders and smart pens as note taking accommodations. The problem?
'The biggest issues with all these methods is that they just are not consistently effective.'
Peer notes
'Their attendance is not reliable. Maybe they're sick, maybe they decide they are not coming to work today, not going to class… anything can happen
Notes vary. This person has taken these notes for me, but how do I know that those notes are what I thought was important? Or what I thought was necessary to note down for later?
Notes are not accessible. We've had instances where a notetaker would send a picture of their notes, while the student uses a screen reader. So those notes are not even accessible to the student.'
Digital recorders
'Digital recorders are just outdated. How many of you still see digital recorders out there? Most students are not super excited or inclined to use a digital recorder when we bring that up.'
Smart pens
'The learning curve is pretty daunting
They can be unreliable. It's never a good look when I demo a smart pen and can't get it to connect with the tablet or computer!'
'We just wanted a reliable and easy to use accommodation - a one stop shop that could cover all our bases and really help us out.' After looking around, Glean really stood out for us.'
Why Glean?
'Two things that really got our attention were its simplicity and ease-of-use.' In contrast to other note taking accommodations, Glean requires little training and reduced admin. This meant that it could entice students to try something new and help Twon support them more efficiently. 'We got about 30 students signed up, which was a perfect number to have for a pilot. It was just enough that we could get really good feedback but not an overwhelming amount for our office.'
Immediate benefits of Glean
Smooth onboarding
'What I really loved was the onboarding of students onto Glean. It's an easy setup; I type in a student's name, type in their email address and boom! They're ready to go! There was no laborious process to get them set up and going.
Self-serve training
'Students already have to make a trip to the Disability Resource Center just to receive accommodations - I don't want to make them come back for training if we don't have to. Glean helped eliminate that extra step and extra barrier for students by having its own tutorial built in.'
Ease of use
Our students responded positively to Glean, they really loved being able to record in class and edit later. In most instances when we bring up a new technology, students don't want to use it because they have to take all of this extra time to learn it. When something like Glean came around that was simple and easy to use, they really appreciated that.
Now the dust has settled?
Missouri State's Glean trial is now complete. So what benefits have emerged for the Disability Resource Center and students?
Greater use of accommodation
'There's been a really big increase in students using their note taking accommodation. I've had more Glean set ups than I have ever given out a smart pen or digital recorder. I can actually see through Glean Admin that students are using their note taking accommodation much more.
More referrals
'One thing I have noticed within our office here is there are more note taking referrals. My advisers are sending me more note taking referrals than I have seen in the 3 years I've been here. I think that goes to show that having a one-stop-shop solution really works. It makes those advisers a little more comfortable with going, "Hey, what do you think about this note taking accommodation? I think this would be really helpful for you."
Amazing student feedback
'Holy crap, this app is going to change my life!'
This student comment came into Twon's inbox not long after introducing Glean. Since then, the reaction from students has been extremely positive.
In one case, a student that had been out of education for 30 years came to Twon with a note taking need. Despite her lack of confidence in tech and skepticism of an online learning tool, she was blown away by Glean's simplicity.
'We go through the demo together and she looked at me and says, "Is that it? You're right, that was really easy!"'
Twon's own note taking improved
As a grad student, Twon decided to take Glean into his own classes to see first-hand how the app worked for students. As a result, he found himself asking questions of his own note taking.
'I just write down every single thing I hear. Glean proved the point that there was a much better way to go about it. I was able to be way more engaged in my classes.'
A new vision for Missouri State
'Those last two points really helped create my new vision for Glean at Missouri State - to provide Glean as a university-wide application.'
When all's said and done...
'Glean can benefit more than just our students with disabilities. Assistive technology doesn't just have to be for students with disabilities, it can be for everyone. It helps create a much more equitable experience for students.'
Written by Luke Garbutt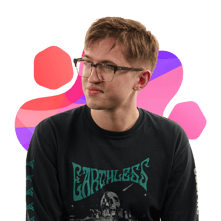 Trial Glean for free at your institution
If, like Twon, you want to shake up note taking support at your institution, there's never been a better time to start.
We're now offering free trials of Glean, ready to go when you are.
Follow the link below to learn more about Glean and make an enquiry!