Feel disorganised?
How good would it feel to have everything in order, enough time to work with and a stress-free deadline? Getting there is easier than you think.
Organisation is a huge part of learning, but unless you're a naturally organised person, it can feel like a chore. It shouldn't be that way.
Thankfully, a few simple steps can help you take charge of your own learning and reduce stress.
Your present and future selves don't get along
Humans are geared towards patterns of behavior that give us a good feeling now rather than a bigger pay-off later.
Think of all the times you opted for high-calorie fast food instead of a healthy alternative. Though it's not in our long term interests to eat junk food, it satisfies an immediate craving. So our minds gravitate towards it.
This impulse applies to studying, too. Last time you sat down to study, were you overly aware of the time passing? Did your mind wander, making focusing on your work harder? Maybe you abandoned the attempt altogether and watched Netflix.
What's happening here, if left unchecked, can disrupt how well we work at college and beyond. But don't beat yourself up over it, either - it's natural and very common.
To get organised quickly, you need to do something easy enough to stick with but effective enough to see clear results. It's the best way to trick your mind into a better pattern of working.
Easy and effective organisation
We keep mentioning these words 'easy' and 'effective' for a reason. If a new routine feels like hard work you won't stick with it, no matter how effective it is. And if you choose something really easy to implement with no results, what's the point?
Organisation isn't about turning your mind into a computer. It just requires a little thinking and some preparation.
Preparing for more organised study
Take these steps now to get ready for more organised study:
Create a separate study space
Having a space to work is really important. Clearing that space away and sitting down helps you get absorbed in the tasks in front of you. This space doesn't need to be in your home - it can just as easily be a quiet place on campus.
Find a little time each day to study
Life can be busy at college, but it's important to make learning a daily routine. Set some time aside to study each day that works best for you. Start with a half or full hour. We recommend doing this at the beginning or the end of each day, but it's up to you!
You need to reward yourself for a new routine. When you've finished studying for the day, think about how you can thank yourself for your hard work. It's important to keep your present self on board with what you're doing to avoid that short term thinking we spoke about earlier.
Getting organised
Once you have your study space, a time each day and a reward, you can work out an organised plan for study.
It's okay to feel a bit overwhelmed when sitting down to work. The key is to break your studying into small tasks and work through them methodically.
Here's a way to do it:
Make your deadlines and long-term goals visible
Do you have any assignments or key dates coming up? Make sure your deadlines are clearly visible in your workspace. These are really important milestones for your semester (or academic year) and should guide a lot of your daily work.
What did you go to college for? What do you want to achieve? Highlight your long term goals to remind you that everything you're doing is helping you get there.
Work out what you need to know to achieve your goals
How confident do you feel about an upcoming assignment? Is there anything you're unsure of? Jot a few thoughts down about what you feel you're lacking (and whether you need any help).
Create small tasks to fill your study time
Breaking your project down into small tasks will help you feel a real sense of progress and achievement.
What research do you need to complete? What do you need to do to plan? How will you complete the work itself? Spend a study session answering these questions and creating tasks.
From here, break these tasks down step-by-step, creating micro tasks to work through. We recommend the free browser plug-in Todoist to keep track and check them off as you go.
Make Sunday your review day
The way you'll make your studying consistently organised is regularly reviewing your week, your work and what you need to succeed.
Go back over your class notes. Are you sure you understand everything? Are there any tasks to complete before the next one?
How have you progressed this week? Are there any challenges you've come across? If there's anything you need to follow up on, set them as tasks for next week.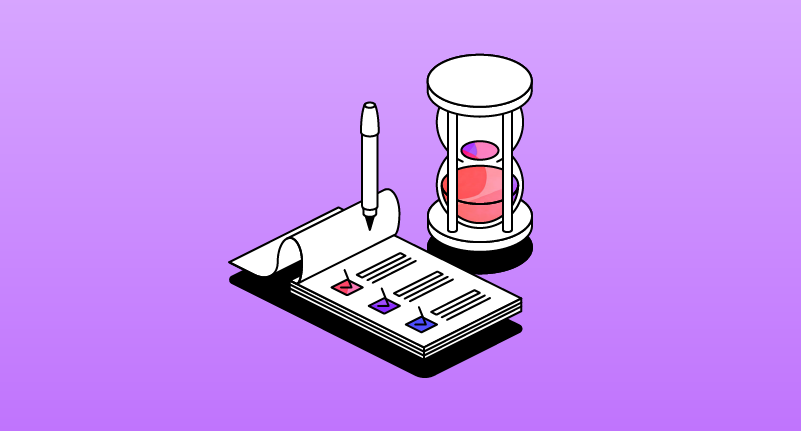 Making information work for you
Organisation is about getting the very best from what you already have.
If you've captured what you need from class, you'll have a wealth of information to help you work to your goals. You just need a smart way to access that info.
Glean makes organisation easy
Glean makes organisation incredibly simple. It keeps all the content from your class in one workspace, with an easy and effective process for organising it.
It's a multimedia workspace, with audio, text notes, slides, definition cards and images, that you can come back and sort through easily.
Here's how it works:
Feeling more organised? Time to master your study habits
Now it's time to think about how you deal with information. Most students use ineffective methods to review their study materials. Our next article will show you why, and how you can easily improve your learning, saving time and stress.
Written by Luke Garbutt