In my previous blog I outlined the reasons why you may be faced with reluctance from your students when implementing AT.
There are several methods and approaches you can use to try and encourage your students to embrace technology and benefit from it. These are some of the methods I have found to overcome reluctance and create buy-in:
Ownership of the decision making:
Let the student be a part of the decision-making process when implementing assistive technology. Show the student solutions that might benefit them. Talk about the pros and cons of each, and try to help them understand how the solution may be used in each of their classes. Let a student talk through this, then let them decide which option they think would work best. Implementing technology this way gives the student a voice and gives them the decision-making power.
Even if your office has limited access to technology and typically provides one assistive technology tool to support a functional area needing support, frame the demonstration and decision making of the tool in a way that gives the student ownership. Ask them how this would work in their classes and if they see benefit in using the tool. If not, probe to find out more information to see if you can provide additional context to help the student see the positives of assistive technology.
Provide training:
Once a solution is decided on, training is necessary for a student to have success with the chosen tool. Even just a few minutes of training can be the difference between a student using a tool and them going home and never touching it. If we are implementing technology as an accommodation with our students, we need to be providing the training necessary for them to use it inside and outside of the classroom.
While we can't reach every student's learning preference, see if you can understand how students learn best. Many times, we learn best by doing. We build learning through muscle memory. Instead of showing a student, let them be the driver when training them on a piece of technology. Let them control the mouse and click around with your guidance. If students are hesitant to use the technology, providing opportunities to fail or click in the wrong spot with you guiding them is less threatening than doing so on their own.
Give students technology "homework":
Giving students a "homework" assignment for AT utilization can help them practice when they leave your office. If a student doesn't feel confident in their skills using the technology, they may be hesitant to use it in the classroom for fear of missing out on content. Try giving students a homework assignment to practice using their new tool. For a note taking support tool, encourage students to watch the news, part of a documentary or talk. Have them take notes to practice in a low-stress environment. You'd be surprised how many students actually take you up on this suggestion and complete their "homework."
Real life application:
In addition to training, showing a student how AT directly helps their work in or outside the classroom is important. For a text-to-speech program, don't just show a student how to use the program. Have them pull up a chapter of their textbook and work through part of the reading with the technology. Demonstrate how the technology applies to their reading so they understand what to do when they get home and are reading on their own. Despite our college students being savvy and smart, they frequently need to be shown and coached in how to use technology effectively.
Follow-up:
Check-in with your student to see how the technology usage is going. Are they engaged? Are they using it? Are they seeing benefit in using it? If not, engage with the student to help figure out what might be going on. Work with the student and suggest other tools they could try. The field of assistive technology has more than one tool for many of the functional areas a student would need support in. Research and find other technology solutions that might work for the student. With a little work, more than likely you'll find a tool that a student will enjoy and want to use.
The door is always open:
Let students know before they leave your office that if an accommodation isn't working or it is causing stress, they are welcome back to your office to see if you can find another tool. If students don't know there are other options, or that you are willing to problem solve, they won't speak up. Instead, they will think their only option is the tool you have given them. As a result, the technology will sit on the shelf, not get used and then be dismissed the next semester.
Just ask them!
Ask the students what isn't working and why they aren't using the tool you've provided. Let them know they can be brutally honest with you. Students may be worried about the perception you will have of them using or not using the tool. If you provide an environment to let the student speak their true thoughts and feelings, more often than not they will be honest with you about their usage. As a result, you'll be able to address the issues and implement a solution they will use. The reason may be something they have been carrying with them or they have been conditioned to think in regard to technology.
Find an ally:
If a student is reluctant to use AT, see if you can connect them with another student user who is embracing the technology. Students may be more apt to listen to their peers than an adult in their life. Encourage the student to sit down with their peer to ask questions, see the tool in action, or just to have a reference of another student who is using the tool. This may help the student see there are others on campus like them using AT. If you find students who are technology superusers, inquire if they would be an ally to your office to help be an ambassador for the technology. See if they'd be willing to connect with students reluctant to use technology.
Written by Luke Garbutt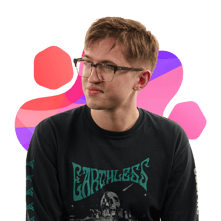 Join the Notetaking Support Network