1. Peer notes is now a 'legacy' support system
In our research earlier this year, we asked the question: how has the pandemic had affected note taking support?
One of our key findings was this: The use of technology in note taking accommodations has skyrocketed in the last few years. Take a look at this chart, which represents the primary note taking accommodation that a disability services department offers.
You can see that the use of technology has grown as the primary note taking accommodation over the past 2 years. But the most stark answers were in respondents' strategy for the future.
We asked respondents whether they were looking to increase their use of peer notes over the next 5 years. Only 9% of respondents were looking to increase peer notes, and 43% of departments were actively looking to decrease their peer notes offering.
Meanwhile, 67% of departments are looking to increase their use of technology over the next 5 years, with only 4% of departments looking to decrease their technology use.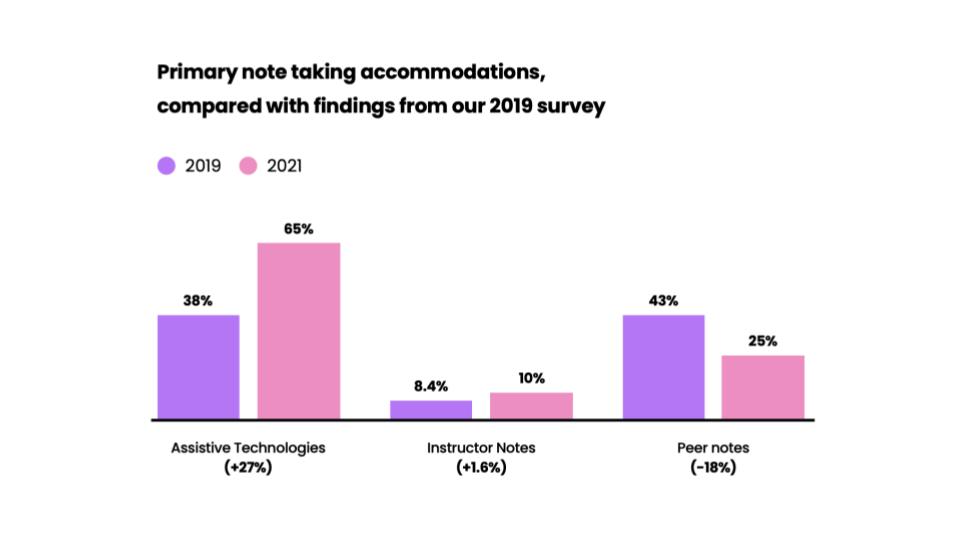 At Glean, we've talked before about some of the limitations of peer notes. Now, across higher education, disability services departments are moving away from the outdated and ineffective peer notes as a primary accommodation. Don't get left behind.
We used to talk about peer notetaking every day. It was a huge drain on our department. Now, with technology such as Glean, that problem has been solved! -Sarah O'Shea, Disability Services Coordinator, Georgia Tech
2. Note taking support must work in different modalities
Looking across higher education in North America, it's clear that hybrid learning is now the reality for many learners. In 2020, Covid necessarily pushed almost all learners online, but it looks like pedagogy is unlikely to return fully to campus this academic year, if ever.
In a recent poll in the Note Taking Support Network, 88% of respondents were teaching in a hybrid manner this semester.
It's further proof that accommodations, including note taking support, need to work seamlessly across different learning environments to ensure students with disabilities are able to create useful knowledge both in person, and remotely.
Being able to continue note taking support seamlessly online and offline helps avoid unnecessary anxiety for both staff and students, and also prevents unnecessary compliance worries by ensuring access. You can be confident that no shift in the learning environment will affect your compliance, nor your students ability to take meaningful notes.
As soon as I saw Glean, it was obvious to me that it would solve our problem of how students can still take notes effectively with online learning. -Anne Osowski, Assistant Director of Disability Services, College of Charleston
3. Independent note taking is important for learning
As note taking experts, we at Glean believe that it's incredibly important that students are given access to the process of taking notes. The act of taking notes is critical to the learning process and retention of knowledge.
By taking notes independently - rather than rewatching a recording, or using a peer's notes - students have to be discriminative with the information they process and store. They have to select important information and build it into their own understanding of the world, turning raw information into knowledge.
It's no wonder that in a recent study students who started to take notes saw a 12% increase in their grades in the space of just one semester - in many cases the equivalent of going up to the next grade.
I am beyond grateful for the opportunity and independence Glean has offered me as a college student. The grades I earn do not happen on their own. It is because of the amazing resources such as Glean I can feel proud of everything I have accomplished. -Kelsey, Student, Concordia University Wisconsin
That's why it's so important to give learners a tool like Glean that helps them take notes independently and make those connections in their mind to transform information into knowledge.
We're very happy with the use of Glean. It's been a godsend! We've had a lot of students who have been able to express their desire for autonomy in the note taking process, and Glean has really helped our students with their independence. -Amy Breton, Assistant Director of Accessibility Services, College of the Holy Cross
Written by Paddy Heaton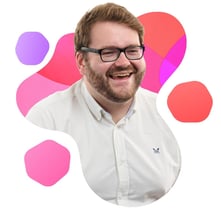 Join the Note Taking Support Network
Be part of our wonderfully supportive community of disability support professionals in the Note Taking Support Network. Learn from the experiences and expertise of your peers and stay at the cutting edge of note taking support in 2022.