We've been hard at work over the last few months preparing a series of new features for the start of the new semester. We've rounded up some of our latest additions to Glean below - read on to learn more!
Dark Mode
Extended or late-night study sessions can take their toll on your vision and dent productivity. To counteract this we've introduced Dark Mode to our web platform - no additional plugins required!
It's easier on the eyes for and even offers more privacy if recording events in dimly-lit lecture theatres.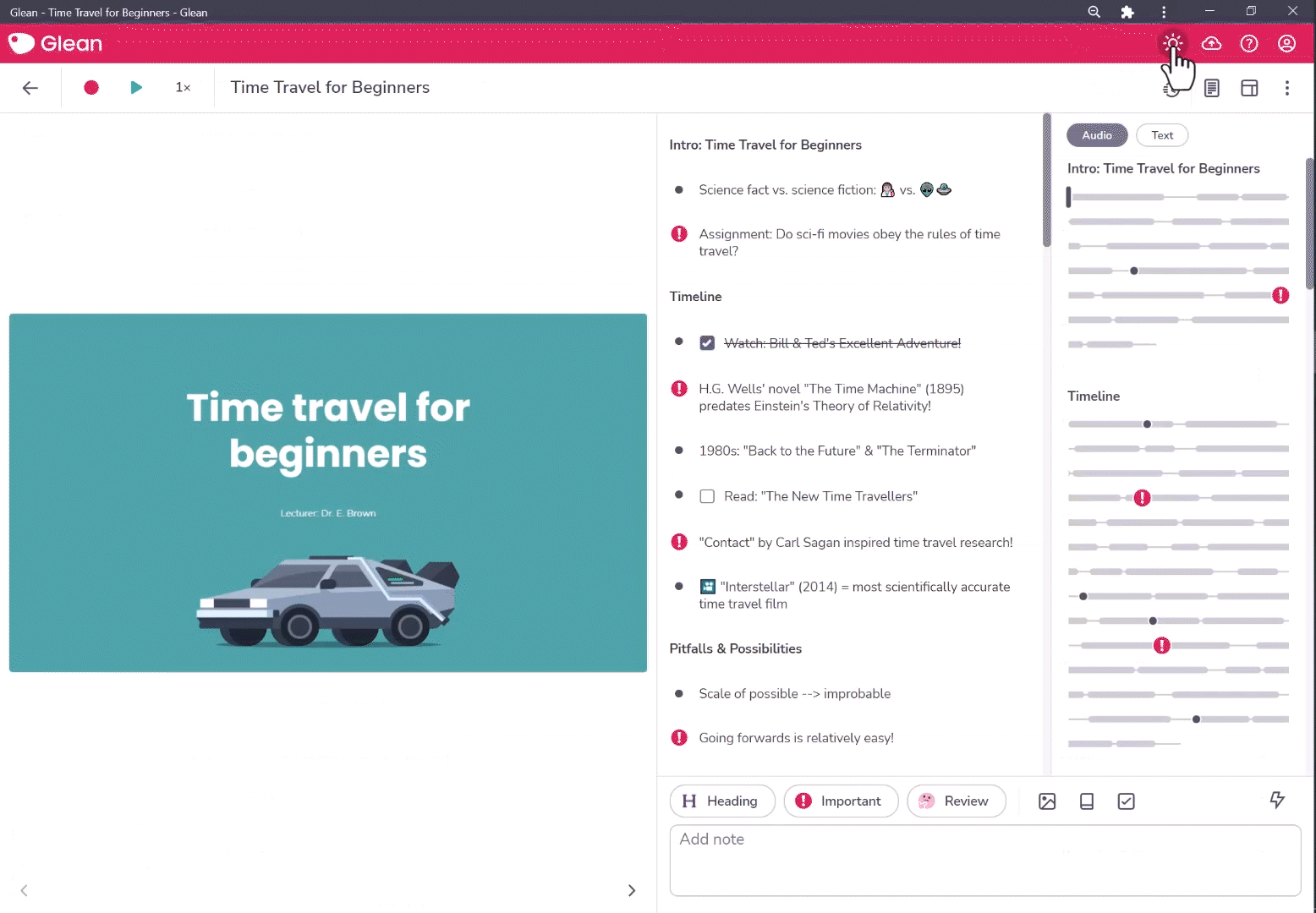 How do I use it?
To switch between Dark Mode and Light Mode, click the 'Toggle Dark Mode' icon in the top right of Glean. You can do this from any screen. Embrace the dark side with Glean today.
Due Dates in Tasks
We know how difficult it is to juggle tasks during busy semesters - there's an abundance of information and only so many hours in the day! That's why we've added Due Dates to Tasks, giving you more control over how you manage your workload.
With this update, you can now create tasks with set deadlines, which can be managed from within individual Events or from the global Task List.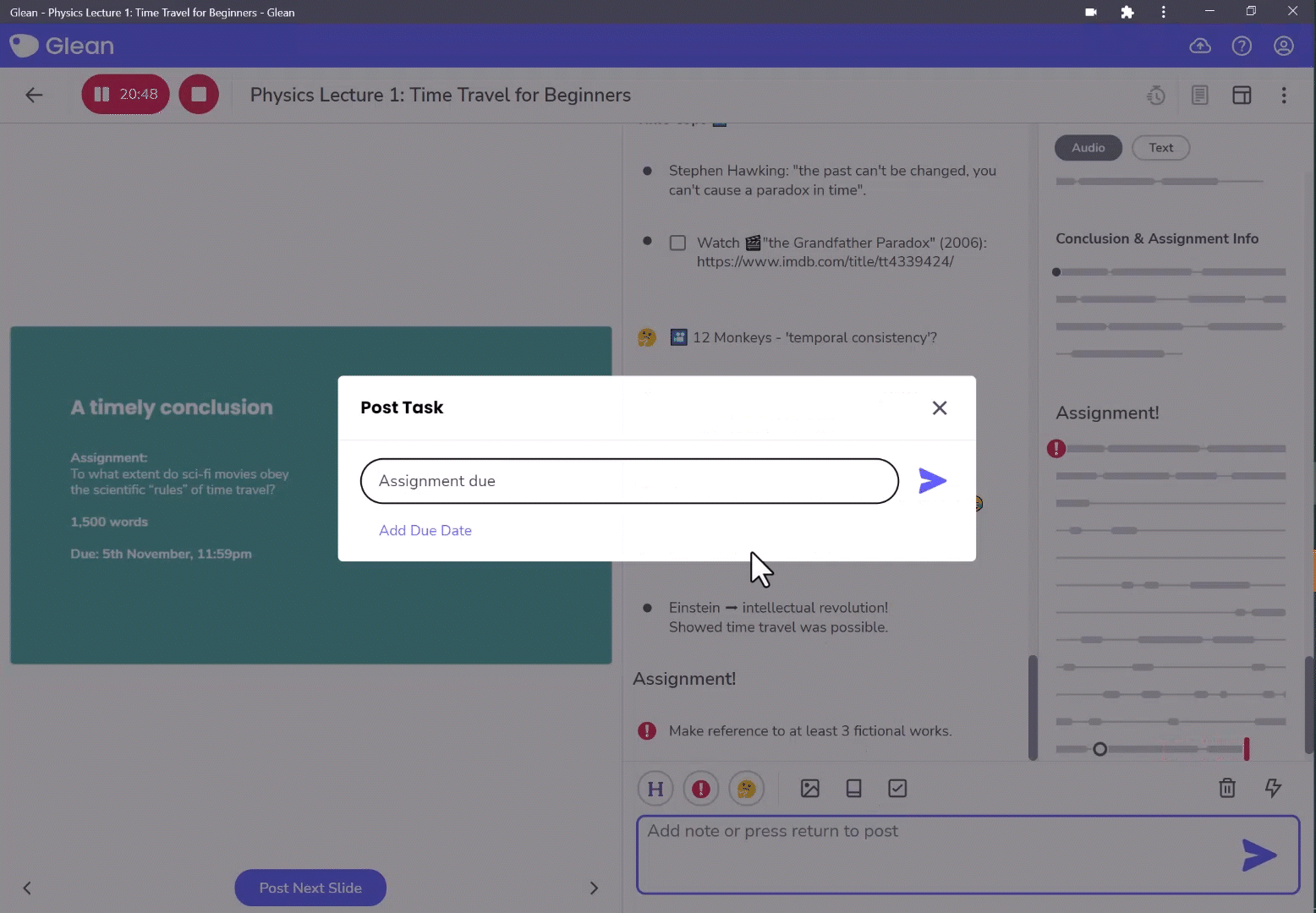 How do I use it?
To get started, create a new Task in your notes feed. Before you hit enter, select the 'Add Due Date' button, and choose your desired date from the calendar view. Then post it to your notes as usual.
Due dates will be displayed in the Task List, for any Events that have had them added. You can sort tasks by their deadline, by clicking on the 'Sort' dropdown and selecting 'Date Due'.
Transcription Improvements
Over the past few months, we've introduced a series of updates to Transcription.
Word tracing
We've added sentence highlighting and word tracing, making it easier to follow what's being said during playback.
When listening back to a recording, the word currently spoken is clearly highlighted. To help maintain focus, the whole sentence is also highlighted.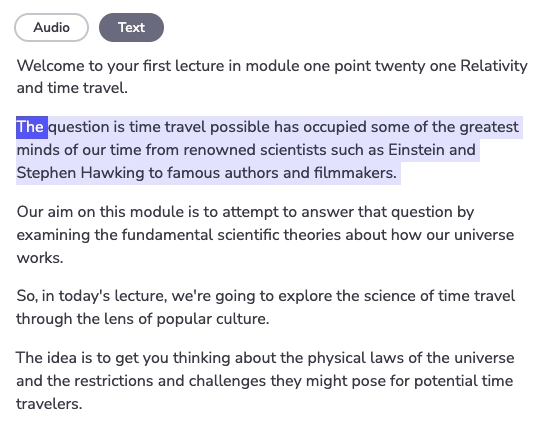 Accessibility Improvements
We've introduced keyboard navigation to improve the accessibility of transcripts in Glean. You can now navigate through a transcript using the arrow keys, select words using the shift key, and post by hitting Tab and Enter.
You can learn more about these shortcuts in our Help Centre.
Profanity Filter
An optional filter that can be used to further 'clean up' recordings. You can enable or disable this by clicking 'Account' in the top-right corner of Glean, and then selecting 'Preferences'.
These features are now live now for all users - why not log into Glean now to try them out for yourself?