We've overhauled the way Tasks work in Glean, making it easier for you to stay on top of your to-dos.
Task Cards replace the previous label system. Tasks can now be marked as complete, and you can keep track of all your outstanding tasks from the new Task List. Accessed from the home screen, you can use this to prioritise your work and add structure to your study sessions.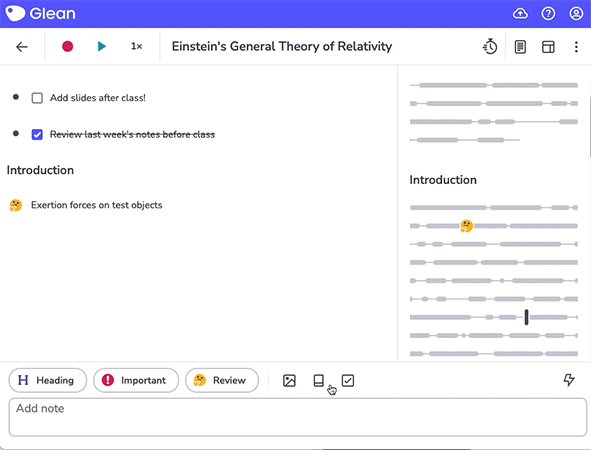 How do Tasks work?
Creating a new Task works similarly to before:
To get started click on the 'Post Task' button. (You can also type /task or press ALT + T if you prefer!)
Enter a brief description of the task that needs completing, and press Enter to add it to your notes feed.
Once you've actioned the task, click on the checkbox to mark it as complete.
You can now access all your tasks from the home screen by opening the Task List. To do so, simply click on 'Tasks' in the sidebar.
From here, you can view all your outstanding tasks, sort by name or creation date and mark them as complete where relevant. If you accidentally mark something as complete, don't panic! You can undo do this by opening your completed tasks.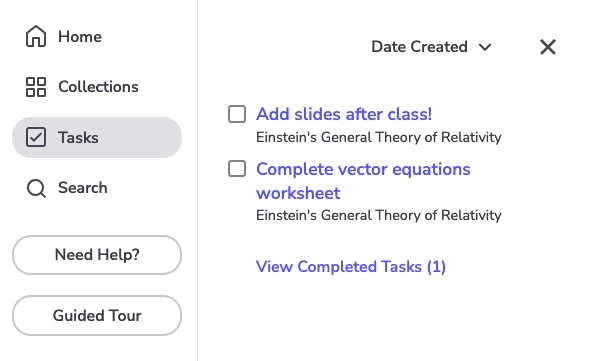 How does this help my learning?
Having an effective method of logging and tracking your tasks has many benefits to the learning process. Not only can they be used to prioritise work and add structure to study sessions, but they can also help reduce potential worry around actions or follow-ups that might otherwise be missed.
All your existing Tasks have automatically been converted to the new format, so there's no need to worry about losing track of your work!
Why not log into Glean now to try out Tasks for yourself?