Great to see you again Gwen, let's get straight into it. Could you tell me a bit about yourself, your job role and what you've been up to recently?
Hiya! I'm Gwen Diagram, I'm the Head of Engineering at Glean. I joined Glean in February 2020 - I started as a contract tester but I didn't last long as a contractor. I absolutely loved the focus on quality and not having to explain to people what unit tests were anymore so I stayed! I originally worked on the website where I had the chance to write production code which was absolutely lovely. I've been a line manager since I became permanent and I've put a lot of thought into how we can make line management at Glean world class, I've based a lot of what we do on Lara Hogan's school of thinking.
Outside of work - I'm really excited today because I'm heading over to The Netherlands for a peer conference - I'm driving over and going on the ferry. I love how Glean supports me with the conferences I go to - I'm getting time off for this but they also support conferences that I am involved in, The Leeds Testing Atelier and Agile on the Beach. We sponsor both and I'm dead proud to work somewhere that takes the tech scene seriously and supports it.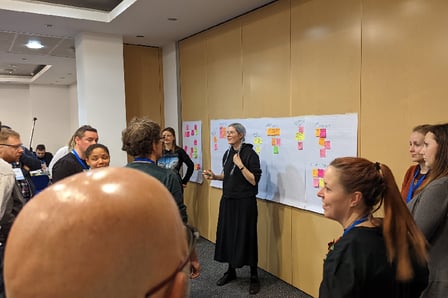 Me at a workshop at Agile Testing Days!
So, how did you initially get into Engineering?
My dream when I was a kid was to become a programmer. Back in 1996, I believed that being a programmer was sitting in a dark room by yourself drinking coca-cola and writing code. I used to be the webmaster for our family websites and wrote a bunch of websites for bands I was really into (Spiderbait and Gerling, I'm Australian) and I did a VB6 course when I was 15.
I didn't go to university and worked a bunch of food and retail jobs until I came to the UK where I managed to get an IT Support role (I flunked the first interview though because I was so nervous to actually get into my dream role!). After that, I landed a Testing role - somehow I managed to pass the SQL part of the test for this because I used to sit next to the Application Support chaps I worked with and ask them constantly what they were writing.
I just had the best time ever working with Software and I became completely obsessed with Testing. I've spoken at a bunch of conferences about Testing, Quality and Leadership and I'm so happy I finally managed to break into Software Engineering, it brings me such joy!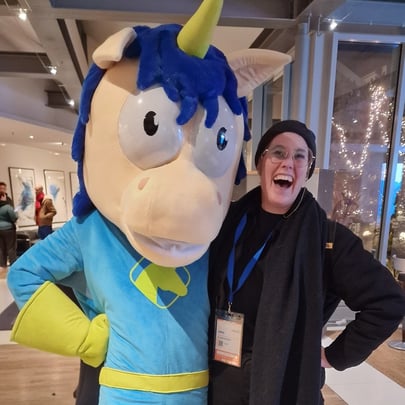 Another one of me at Agile Testing Days with the Agile Testing Days unicorn 🦄
As Head of Engineering, what does the typical day look like for you?
Well, mostly a lot of meetings - which is great, I speak to people from all around the business. I've learned a lot about Sales, Marketing and Finance from being in the Head of Engineering role, I'm constantly learning. I also spend a lot of the time focusing on the eudemonia of the Engineers - Engineers that are engaged and motivated create beautiful, quality products. I'm constantly monitoring this through a series of graphs and other forms of feedback. I'm also conducting quite a few interviews at the moment which is lovely - I love meeting new people and I love it even more when I can offer them a role at Glean!
What's it like leading the Engineering team at Glean?
Honestly - wonderful. I have a great sense of pride of what we, as a whole have achieved at Glean. You'll often hear me speak with pride about the low number of incidents we have had at Glean and this is due to the high level of quality we embed into our Software Engineering practices. We've got Continuous Deployment (we deploy several times a day), great monitoring and beautiful infrastructure automation. What's even better about this though is it's not because of anything I have done in particular - we've got wonderful Engineers who have implemented this.
We've also got a great culture in general, the Engineers love hanging out with each other so there's always a bunch playing Minecraft together, or, the ones that live close to the office are going out together and having a nice time. Glean gives each department a social budget of £25 per person each quarter. In the past, we've gone to Junkyard Golf, the Arcade Club and Pie Minster (we had quite the pie obsession for a while). This quarter, we've deprecated Jenkins and moved to Github Actions so we are getting a Jenkins pinata which we are very excited about smashing.

I generally feel that I can trust the team to do their best and I'm there to help them if there's anything they need. Outside of the team, I love working with people around the business - I'm constantly learning about other specialisms so I'll never get bored!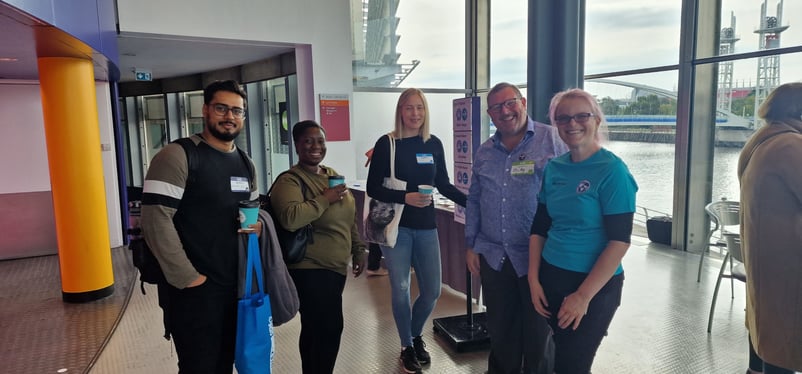 Testers, new and old at Testbash UK
What's your favourite thing about working here?
Definitely that we, as a company, are always open to listen to feedback. Whether that's feedback from our employees or our customers, we listen and iterate. Some of the great things that have come from listening to internal feedback are the nomad policy, the opening of the beer fridge every day, constant iterations on the Company Meeting - and, one of my favourites was putting a coach on to take people back to the City Centre after the Christmas party.
Relating to customers, I absolutely love how we are constantly speaking to customers and users of our software to see how we can improve it. We've got such a wonderful Product and UX Design function who are constantly pushing to make our product better for users. We love hearing feedback!
We've got a couple of job openings for Engineers, could you share a piece of advice for people applying for the roles?
We love to support extroverts and introverts, we're a diverse team so welcome humans of all types. We give you room to be yourself at Glean, so, when interviewing, bring yourself, we'll love you for it. We're really passionate about quality and clean code so we love to see tests when submitting technical tests. We also like to see people really thinking about the problem to solve and listening to feedback to improve their solution.