Hi guys, you both work in our Data team. Could you tell us a bit about yourself and your role? 👋
Alex: Hi! I'm Alex and I'm one of the Data Engineers at Glean. We automate data processes so that we end up with more user friendly data than what we start with.
Matt: Hi, I'm Matt. I'm the Data Analyst here at Glean. I joined Glean about a year and a half ago towards the end of the pandemic. I work with Alex and the rest of the data team to make data transparent and accessible to everyone else. I have come from a data engineering background so I sometimes wear that hat too.
Work's not my whole life so in the outside world you might find me on the hockey pitch, re-learning how to play a guitar or doing one of the many things needed to keep myself alive. My midlife crisis will probably be beekeeping.
Alex

, this is your first role as a Data Engineer. What made you make the move into Data & what's it been like so far? 📊
Alex: I developed an interest in data when I studied Maths and Psychology at university. My favourite modules were those where I had the opportunity to code and in psychology I enjoyed exploring data to find an answer to a question. Data contributes to solving problems and you can learn a lot about what other people do and why they do it. Previously, I worked as a Business Intelligence Developer where I gained an aversion to spreadsheets. I became interested in data engineering because I wanted to know other interesting ways to handle data.
So far there have been so many opportunities to learn and I have rarely encountered spreadsheets. A highlight has been doing a Udacity data science course. It has allowed me to solidify what I have learned as a data engineer, how to become a better data engineer, as well as what we can potentially learn from our data. I look forward to seeing what we do next.
Matt,

how did you get into Data Engineering?

📊
Matt: Data wasn't my first choice of career. Originally, I wanted to get into astronomy and research. It turns out that university level physics is really difficult and I really didn't have the best time there so those dreams never materialised.
Coding wasn't something I took seriously until after university. It took a few years but I was fortunate enough to get on an internship and grad scheme at one of the Big 4 on the back of a project analysing the performance of Donald Trump's Tweets in the leadup to the ill-fated 2016 election (in short, nobody cared for Jeb 😢). Even after this time out, I wasn't the oldest in the Data Analytics cohort; I'm not the only one to walk this convoluted path to engineering.
I think Glean is starting to recognise that the paths less trodden are becoming more and more commonplace. In the last year, we've started offering apprenticeship schemes to those starting their journeys and removed university grade requirements from our engineering recruitment. Because how functional you were between the ages of 18-21 shouldn't be a stigma you have for the rest of your career.
You both work Hybrid, what's that been like? 💻
Alex: Hybrid working is great as it gives you a better work-life balance and flexibility so you can prioritise things you love and any life admin.
Matt: I really like the setup we currently have. I've been able to live out in the middle of nowhere without having to worry about trains and the cost of regular commutes.
What's your favourite thing about working in the office?
☕️
Alex: It's great to see everyone in person and the coffee's better than what I have at home.
Matt: Glean's just full of amazing people. There's a few fairly active groups and communities that are open for anyone to join. Some people go go-karting, I'm not brave enough for that. Instead, I've been involved in things like the Leeds Docks Run we had a couple of teams for and our resident house band Glean Bandit.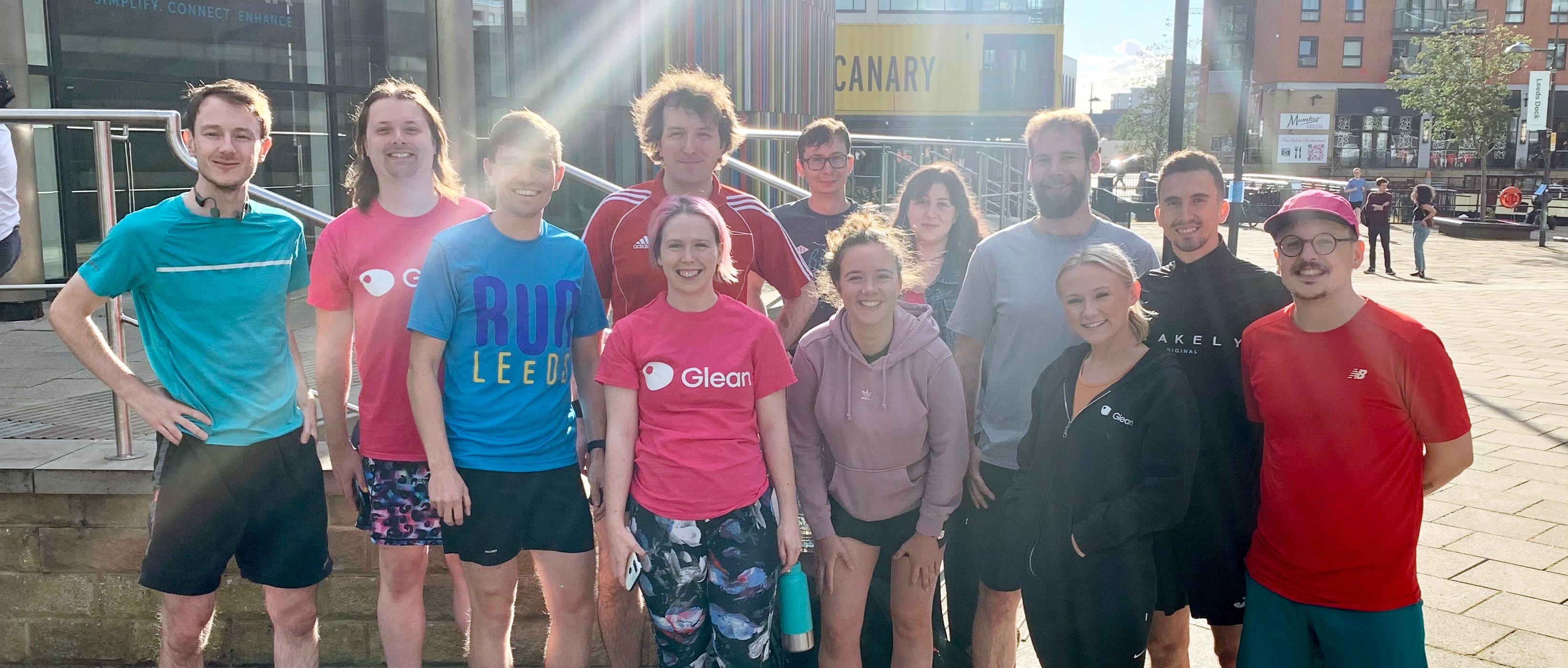 Do you have any tips on Hybrid working you'd share with others?
Alex: Create structure in your day. I work better when I have a morning routine and regular breaks in the day to recharge.
Matt: Whenever you work from home, the tradeoff you have is being less noticed and less familiar with people you work with. This wouldn't result in being P45'd, but if you're not known it's likely that you'll be excluded from conversations you probably have a stake in. This is particularly important to me since a large chunk of my job is to keep on top of the sentiment and interest of other teams.
I know this advice won't work for everyone, but try and make an effort to know people whenever you travel into the office, even if that means going to the pub with them after work. I find it makes difficult work conversations easier if you know who you're talking to.
If you fancy joining us, we're always on the hunt for talent! Visit our careers page below to check out our latest vacancies.